Subscriptions to Travel and Tourism Resources
What is a subscription and why should I buy one?
A subscription is your ticket to priority access to our expanding database of travel and tourism resources (click to have a look at the resources homepage). Staff can save valuable time preparing for lessons, while students can use the database to research for their assignments, tests and exams. New resources are added every month, so you'll always be up to date. A paid subscription gives you access to resources that are not available with a free account, such as assignments, student activities and worksheets, glossaries of common terms, videos and video clips, links to useful websites, etc. - see the table below for all the information.
What do I get with a subscription?
What you get

Free Account

Paid Subscription

Topic-by-topic resources* and case studies

Blank maps

(extra maps for subscribers)

Travel and tourism statistics

Monthly industry news updates

Glossaries of key terms and definitions

X

Exclusive resources* and case studies

X

Key charts, tables and diagrams

X

Video clips on topics and destinations

X

Assignments and topic weblinks

X

Student activities and worksheets

X

Group subscriptions for students

X

Exclusive offers and discounts

X
How much is a subscription?
A subscri
ption for a
single user (member of staff or student) currently costs
£27.99 for 12 months
(discounts are available for groups - see below). These give access to all the resources on our expanding database.
PLEASE NOTE
that a subscription for a single user is not transferable and log-in details must not be shared nor multiple devices accessed at the same time. Our system incorporates hidden code to detect multiple log-ins with the same email address. We always take copyright infringement and system abuse very seriously.
Can I buy a subscription for a student group?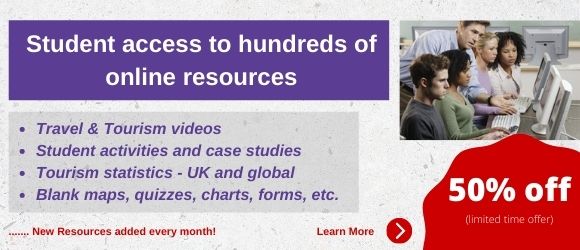 Yes you can. You can use actual student email addresses or we can set up 'generic' anonymous email accounts for a set number of students if you prefer (please
contact us
if you would like to discuss this). The following table gives the current discounts for student group subscriptions. A group subscription can be for a group of students, a staff group or a mixture of the two, e.g. 15 students and 2 members of staff would pay £13.49 per person for 12-month access to the resources.
| | | |
| --- | --- | --- |
| No. of subscriptions | Discount | Cost per user (staff or student) |
| 1 - 4 | - | £27.99 |
| 5 - 10 | 50% | £13.99 |
| 11 - 20 | 50% | £13.99 |
| 21 + | 50% | £13.99 |
How long does a subscription last?
Subscriptions last for 12 months from the date you order (or you can choose a date in the future when you would like the subscription to begin). Subscriptions don't renew automatically, but we'll send you an email at the end of 12 months inviting you to renew.
Can I convert a free account to a subscription?
Yes, of course. If you've found our free resources useful, but would like access to the full database, just visit the subscriptions page and place you order.
Can I

cancel my su

bscription?
Yes you can.
After you cancel, your subscription will remain active for the remainder of the time you've paid for. When this time is up, you will still be able to access our free resources. You can purchase a new subscription at any time to restore access to subscriber resources
.
I live outside the UK - can I still buy a subscription?
Yes, of course. Subscriptions are available worldwide to staff and students.
I've got some more questions - how do I contact you?
Click here to find out how to make contact.
How do I buy a subscription?
Visit the
Subscriptions Page
to find out how to buy a single or group subscription. You can pay with a credit/debit card or official purchase order.
*Resource topics include: Investigating travel and tourism: The business of travel and tourism: The UK as a destination: Customer service in travel and tourism: Marketing travel and tourism products and services: Employment in travel and tourism: European destinations: Long-haul travel destinations: Retail travel operations: Business travel operations: Responsible and sustainable tourism: Work experience in travel and tourism: Residential study visits in travel and tourism: The cruise industry: Tour operations: Specialist and special interest tourism: Working as a holiday representative: Passenger transport in travel and tourism: Events, conferences and exhibitions: Visitor attractions: Tourism development and impacts of tourism: Researching current issues in travel and tourism.